UMC
About the United Methodist Church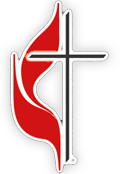 Regardless of one's age, race, life-story, or standpoint, each unique individual is welcomed within our church. No matter where a branch of the United Methodist Church may be located, the underlying structure remains the same, which we refer to as "connectionalism." We strive to weave the fabric between our disciples through our appointed-clergy system, mission-based outreach practices, and united giving.
"Go therefore and make disciples of all nations, baptizing them in the name of the Father and of the Son and of the Holy Spirit, and teaching them to obey everything that I have commanded you." (Acts 28:19-20)
Derived from this "Great Commission," our church's mission is to make disciples of Jesus Christ for the transformation of the world. We uphold this all-encompassing objective through four basic principles: welcoming, worshiping, nurturing, and sending.
At Grace UMC we sum up the Great Commission as inviting others on the journey of Learning to Live and Love Like Jesus. Putting Jesus in the center reminds us of some things that are essential to United Methodists.
1) All are welcome at the communion table because it is not ours, but Christ's. If you desire to love God and neighbor as yourself, you are welcome.
2) United Methodists do not have a long list of "you must believe's." Obviously we understand Jesus to reveal God's ways to us. But, we try to honor Faith, Tradition, Scripture and Reason. In other words, United Methodists try to make room the understandings of the head and the heart, the wisdom of our ancestors and the challenges of a changing world.
3) United Methodists have held their are three simple rules to live by (simple to name, not so simple to live out). Do no harm. Do all the good you can. Stay in love with God. The three rules are another way of stating the greatest commandment as Jesus understood it with two key parts. "Love God with all your heart, soul and mind. Love your neighbor as yourself."
This page provides a brief overview of our purpose of action within the United Methodist Church. Please visit the Main UMC Website for more details on our mission, our faith, our people, and our world. Or, feel free to call or email Pastor Roger. 218-233-1857 or graceunitedmethodistpastor@gmail.com